Sarvamangala Shri Saneeswara Temple –
The only Temple in the world dedicated to Sri Shani Deva
outside India…
PLEASE PARTICIPATE IN DONATION.
The TEMPLE Space in Transition: Your Help is Crucial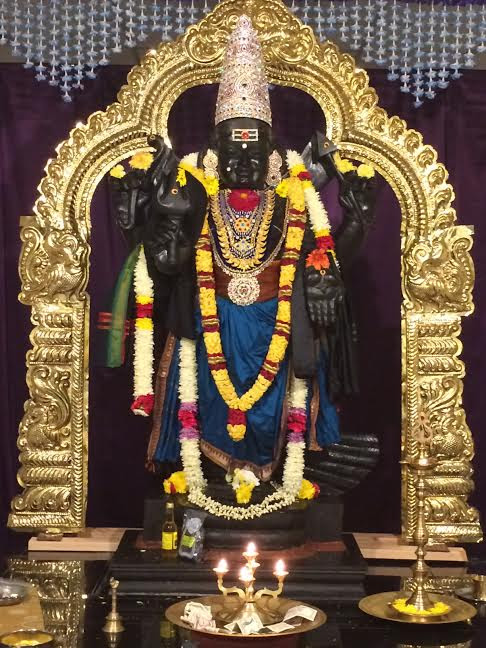 Temple Space in Transition:
The Importance of Sarvamangala Shri Saneeswara Temple:
There are countless Temples & sacred places on our planet that were dedicated to the reverent aspects of NAVAGRAHA. Historically there were temples that offered opportunities for connecting with the various blessings & mysteries of the NAVAGRAHA and greater cosmos, but most have been subsumed into other structures. In our modern world there are currently few sacred spaces explicitly dedicated to NAVAGRAHA in India, but, none elsewhere in the world. The first Temple in the world outside India Dedicated to the Navagraha Devathas has be initiated in your neighborhood.
We are living in a time in which spiritual degeneration, global warming, mass extinction, deforestation, overpopulation, lack of clean water, hunger, poverty, war, and many other planetary wounds have peaked beyond crisis. Although here in the NEW YORK Area, we have a devotees committed to making a positive difference in the various issues facing us, in this urban environment people are often overworked, overcommitted, and feel an absence of belonging and interconnection.
Sarvamangala Shri Saneeswara Temple – NY has created a beautiful and sacred space where people can come to pray, rest their minds, heal, and connect with themselves, their community and the planet. In this place they can receive blessings, participate in religious ritual ceremonies, pray/meditate, and expand their sense of self to include the larger web of life. It takes time, commitment, resolve to follow through, and attention not only to religious & spiritual activities but also to the mundane details for a seeker, all of which we have successfully accomplished over the last few years.
Growing Into Our Next Phase:
Sarvamangala Shri Saneeswara Temple NY has reached a point where we are forced to leave our current location. In order to continue and expand our capacity for regular pooja, host larger gatherings for popular inspirational special poojas & festivals, be more accessible to the public, and simply craft a more devotional atmosphere, we are planning a sustainable space. The Temple has thrived in its current incarnation for 3 years, but sustainable service has been our priority, so we're reaching out and asking the community for help to achieve the next phase of our vision.
We are in the process of finding a Potential New Space!
We have already identified a few properties in Floral Park, New Hyde Park and Bellerose area that would be a perfect new home for Sarvamangala Shri Saneeswara Temple NY. After spending the past few weeks scouring for potential real estate, we now have a very tangible goal, and not only the passionate conviction in our mission, but a destination address, concrete numbers to work with, and a deeply considered plan to back it up.. We have identified the need for 2 paid positions a fulltime Priest & a manager in order to move forward with sustainability and success. Moving into the new space will require down payment of first and last month's rent and a security deposit. And because we are committed to shepherding the Temple through this growth process with pragmatism, we're seeking funds to not only make this initial move, but also to give us a reasonable buffer for a couple of months as we build momentum, spread the word about our expanded capabilities, fill the calendar with additional events, and increase the flow of devotees.
What We Need:
For the New Space (next Phase growth):
If we LEASE a commercial premises for Sarvamangala Shri Saneeswara Temple NY: We need $90,000 which will cover the security deposit, first month rent for the new space, moving expenses, Deity installation and first few months of managerial and administration salaries until our Temple become self-sustaining.
If we BUY a new property for Sarvamangala Shri Saneeswara Temple NY: We are on the lookout for a 10,000 sq feet property We need to raise the funds for the initial deposit for mortgage (Around $400,000), and first few months of mortgage, moving expenses, Deity installation and few months of managerial and administration salaries until our Temple become self-sustaining.
Help us take the leap!
There are times in life when you've been preparing, planting seeds, watching the skies, and waiting until that right moment for what seems like forever. And then out of the blue, the opportunity you've hoped for presents itself, your dreams suddenly become real, you're forced to confront your fears of change, and you either take that leap of faith, or you step back and wait another cycle But now we're ready. This is Navagraha Devasthanam's leap, and with god's Blessings, your help, we can land in the magical new sacred space and welcome even more of the community members to share in praying, healing, connection, and collaboratively creating all that YOUR Temple can become.
Ways You Can Help
Visit our website: www.NavagrahaUSA.com
and click on 'DONATE' and make your donations.
or
You can send your donations by check made to
Shri Navagraha Devasthanam of NA, Inc.
Mail it to our CPA Office:
SG Accounting
22 Jericho Turnpike, Suite 108
Mineola NY 11501
All Donations are Tax Exempt..
Also, there are still ways you can help!
Spread the word!!! Talk to your friends, Corporate offices. We need this to go as far as it can! You can use the sharing tools, Face book, Twitter and other social media!
Please be in touch & Support the Team:
(718) 781 0885 or Temple.Navagraha@gmail.com.
THANK YOU!!
Sarvamangala Shri Saneeswara Temple – NY
Ph: 718 740 9400 / email: Temple Navagraha@gmail.com
web: www.NavagrahaUSA.com