Appeal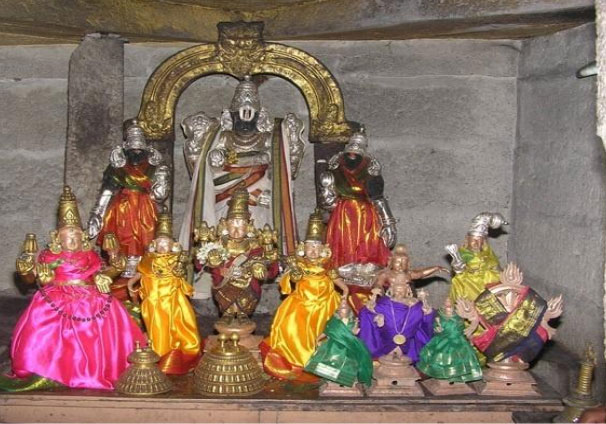 Sri Thirunarayan Perumal is situated in picturesque surroundings with a chain of hillocks forming the back drop and two big lakes one just behind and another on the left of the Temple.
Aamodham (means joy, serenity & pleasure) is the one and only temple where the goddess is named as Aamodavalli Thayar
and those who pray to Aamodavalli Thayar are blessed with happiness in all walks of life.
This temple is situated at Kolathur which is 5 kms west of Singa Perumal Koil which is between Tambaram and Chengalpattu railway stations. Before 200 years Deepha Prakasa Perumal of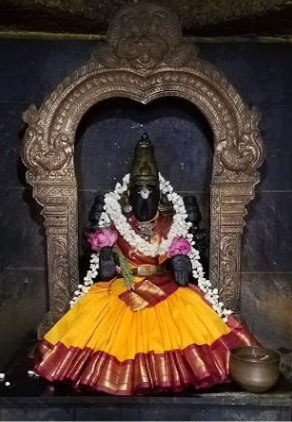 Kanchipuram graced this temple with his visit and Mangalasasanam was done by Shri Nigamandha Maha Desikan who is adorning this temple. This temple is more than 400 years old. During the year 1997, Vimanam was built for Shri Thiru Narayana Perumal Sannadhi and Sam prokshanam was done. The Dwajastambam was very old and new Dwajastambam was erected and Maha Samprokshanam was done on 18/8/2002. Vimanam for Thayar sannadhi
was constructed and maha samprokshnam was done during 2003.
1. Painting for Gopurams
2. Alterations in Madapalli
3. Fencing of temple land to prevent encroachment, Construction of compound wall
4. Renovation of Mandapam and building a new mandapam.
5. White washing and painting work.
The above mentioned works together with expenditure on Samprokshanam and
Balalayam are estimated to cost about Rs.15 Lakhs (Rupees Fifteen Lakhs).
Those who wish to sponsor any one or more of the items are most welcome to do so. The details of sponsorship have been listed out in the next page. Members of a family can join and can jointly sponsor an item of their choice.
Further, all asthikas and devotees are requested to take part in the present endeavour with their contributions and receive the benign blessings of Sri Thirunarayana Perumal. Contributions by way or cheque / DD may please be drawn in favour of Sri
Thulaseeswarar Baktha Jana Sabha and sent to the following address.
Alternatively, the contribution can be sent directly to :
SB A/c No. 008701000053384 of Sri Thulaseeswarar Baktha Jana Sabha, maintainted in Indian Overseas Bank,
Tambaram West. IFSC code : IOBA0000087
Sri Thulaseeswarar Baktha Jana Sabha,
Regd Society No. 443 /2005, # 50 Kolathur Village,
Venkatapuram Post, Singaperumal Koil, Chingleput District.
Office : #1, III Cross Street, MES Road, Tambaram East, Chennai–600 059.
Email : srithulaseeswarar@gmail.com
url : www.srithulaseeswarar.com
Contact No: 9444022133